Ever felt like you are doing everything right, have placed all the pieces of your funnel in the right places, but still you are not getting the expected conversion rate.
You keep going through each aspect of your funnel, your traffic sources, but unable to find that weak link.
You are losing money, the conversion rate keeps dropping, and yet nothing seems out of the place in your whole funnel.
Your mind is filled with questions, but you are unable to find the answers for them.
So what should you do at that time? How can you figure out what's wrong in your funnel?
Actually, the answer is quite simple, but we tend to ignore it because it's too basic.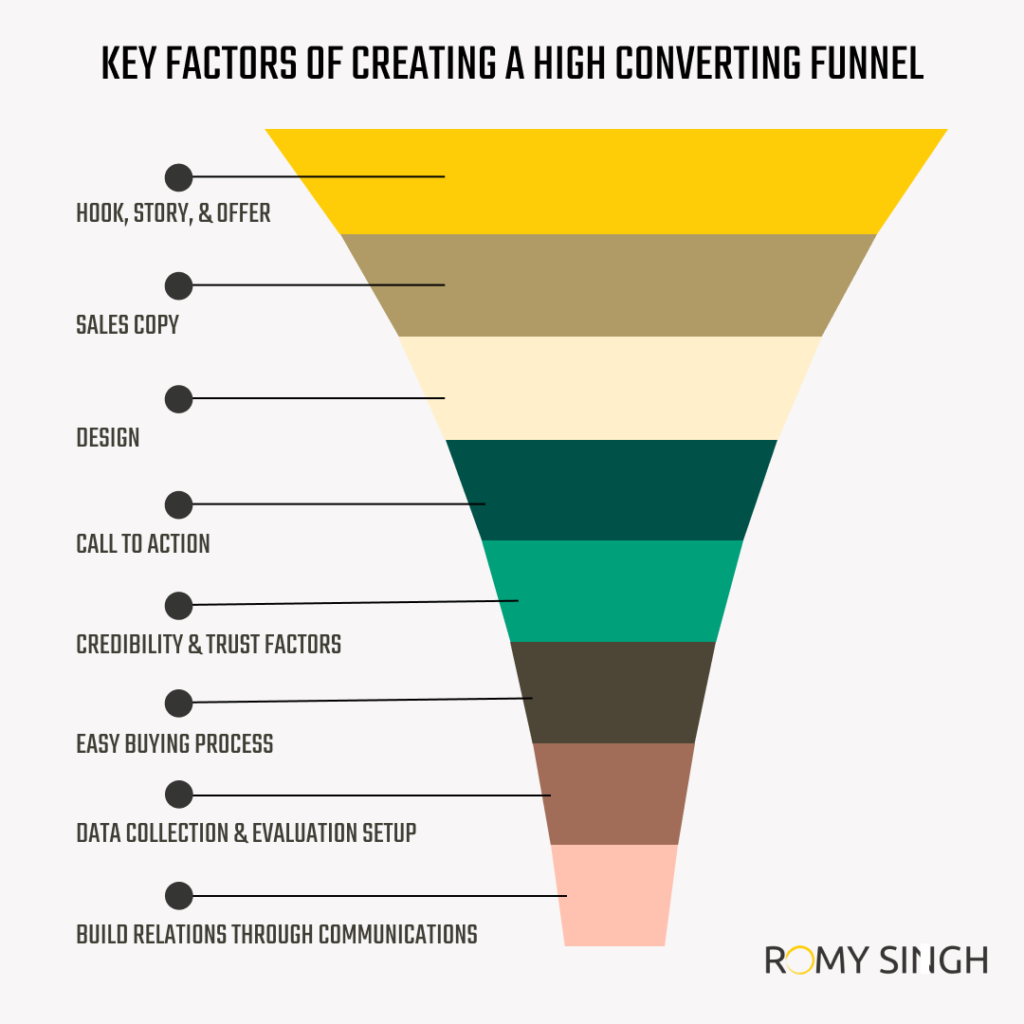 Most of us believe or think that a bigger problem needs to have a bigger solution and answers for it, but that's not true in many cases.
You need to go through the key points of your funnel once again.
But here's the catch, you need to go through your funnel with the perspective and mindset of your buyer, targeted customer, and figure out the weak points.
When you go through the funnel as a targeted customer you will notice new things that you would miss or hardly notice with the perspective of an offer or product creator.
So, what are the key points or factors you need to go through to improve or create a high converting funnel?
1- HOOK, STORY, & OFFER
You need to be clear about your hook, story, and offer. Make sure it's compelling, communicating, and convincing enough for the buyer.
2- SALES COPY
In the funnel, most believe that just putting a long essay or article would work, but they are wrong. No matter how beautiful your sales page looks, how targeted your traffic is, if your sales copy is not good then you can't get high conversion. You'd lose a lot of potential customers or buyers.
From headlines, bullet points, to the paragraph, your words are what converts your funnel visitor to a buying customer.
3- DESIGN
Once you have your sales copy in place, then creating a design becomes a lot easier, because you need to follow the sales copy format and create a simple and yet compelling user experience.
4- CALL TO ACTIONS
The sales funnel needs to have a strong call to action, and a good number of places, because a visitor can decide to buy the product at any content point or section on your funnel.
5- CREDIBILITY & TRUST FACTORS
One of the key factors that influence the buying decisions of a visitor to a great extent is the content that helps boost the credibility and trust factor for visitors.
Usually, these contents are payment screenshots, testimonials, videos, Facebook comment screenshots, live demos of the actual product, and a guarantee.
6- EASY BUYING PROCESS
Once a visitor decides to buy your product or offer, he is expecting a short and easy buying process. The transaction should be completed in 2 or 3 clicks.
The more steps or clicks the visitor needs to make the higher the chances of losing the sales.
7- DATA COLLECTION & EVALUATION SETUP
In the 21st century, money is in DATA. If you want to understand your funnel, your target customer, and make more concrete decisions, the decisions that are backed by actual data then set up all the possible tools that a funnel needs to have.
Some Tools That You Need To Install:
– Facebook Pixel
– Google Analytics
– Session Recorder
– Click Or Heatmap
– Email Marketing
– Chatbot
– Sales Popup Based On Location
8- BUILD RELATIONS THROUGH COMMUNICATIONS
Once you have a buyer or customer, most of us tend to kind of ignore them or forget about them, thinking that the buying journey is finished.
It's so wrong, and we are losing tons of money because of that.
Always remember this simple fact, the profit margin is higher when you sell something to people who have already bought from you once as compared to a new customer.
So, don't ignore your customer list!
Learn to nurture them, build relations with them by offering value.
By doing so, you can keep selling them your new products or offers.
Once you go through each of these aspects through the eyes of your ideal customer, you are bound to notice a few things that would help you optimize your funnel for a better conversion rate.