Okay, we all tend to struggle when it comes to diverting traffic from social media sites to our blog. For you, the struggle might be like a tough brick wall, and for others, it just a walk in the park. Those people who know the secret formulas to get traffic from social media sites, never share the whole truth. It's always the part of the secret, which you already know but put in an equation form. When you read or watch those secret methods, you realize that you already knew most of the workaround, so why it's not working for you?
Because the equation is incomplete. You have the formula, but don't know how to execute it the right way, and they do. Even if they share their formula, not everyone can replicate the same results, some might suck at it, or some might do better.
Let me give you an example here:
A talented chef shared his most famous dish recipe with you.
Do you think that you can create the same taste and presentation as the chef?
You have the ingredients, you are good at cooking, and most importantly, you have the recipe for the dish. You've pretty much everything that you need to replicate the dish with the same taste, but your success is not guaranteed at all.
There's a very high chance that you'll end up failing at producing the same taste. Because there's one thing that you don't have and you can't get it easily no matter what you do.
And it's the experience that the chef has. So the recipe is pretty much useless for you if your patience runs short.
It's the same with us bloggers & marketers. There are thousands of good bloggers who share their marketing strategies with people, but not everyone can take advantage of it.
And the reason behind that is that they don't have the same experience and skill set.
The only way those methods, secrets would be useful to you if you keep experimenting with them, and adjust the factors to make them work for you without giving up.
So now, you might be thinking that the strategies I'd be sharing with you would be like the others.
I assure you that they are not. These 3 strategies are so simple that a newbie blogger can take advantage of it and get a good amount of traffic.
What are those 3 Strategies?
Before I share the 3 Instagram marketing strategies, I'd like to remind you of something, Don't give up in a day or two.
Your hard work is directly proportional to the amount of traffic you'd get.
So, let's get started now.
The Ask Method:-
The method is very simple, and it requires only 3 steps to drive targeted traffic to your blog. Just because I said the strategy is simple, it doesn't mean that it's going to be an easy ride for you, you need to put in the effort.
There's no reward without the hustle.  
Step 1: 
---
Open the Instagram app and search for hashtags that are relevant to your blog niche. The best way to do this would be to create an excel sheet and save the hashtags. Because, in the future, you're going to need those hashtags.
When you are looking for hashtags make sure that you start with hashtags that have less amount of content, and as you get more confident with yourself in establishing a relationship with people then you move to hashtags with a good amount of content, and later on, go with bang approach everyone.
Here's How You Can Do It?
Step 2: 
---
People who are sharing posts under all these hashtags are highly relevant to you and your blog. And the people who are interacting with the posts under these hashtags are your targeted audience.
So how do we divert them to your blog and make them aware, you share the type of content that they like to consume?
Simply by interacting with them.
Open any user profile that you want to get in touch with and tell him how your blog will add value to his life. After opening his/her profile, you might get an email id or you might not.
In the case when you get an email Id, send an email to him introducing yourself, your blog, and the reason why you're sending this mail.
Here's a copy of the mail I send to people. You can replicate it or write your own.
There's going to be personal profiles, where you won't be able to find a contact email address. In that case, message them on Instagram to establish the relationship, and later make them aware that how you can provide value to them with your blog & content.
Step 3: 
---
Its life, sometimes it gets busy with things, and we tend to push somethings behind. So if you've not heard back from the people you've connected with, then send a follow-up mail after 2 or 3 days.
You've to do two things with your follow up mail. A reminder about the blog visit and invitation to join your blog mailing list.
Here's a copy of the mail I send to people. You can replicate it or write your own.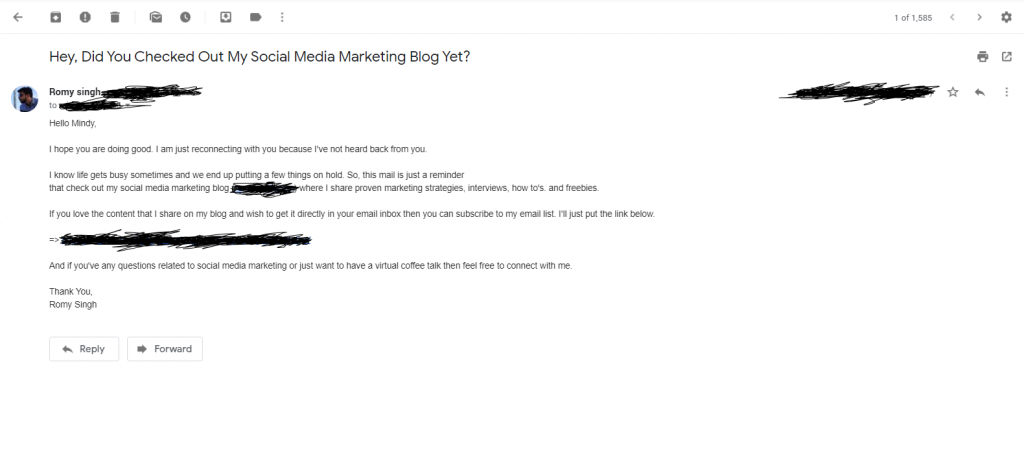 The CCPC (Copy, Create, Paste, Credit) Method:-
Have you ever copied something in your life?
How did it felt? Good right! I know our parents must have taught us that cheating is not a good thing, and we should be an upstanding man, always doing the right thing.
But, what if I tell you that cheating here would give you tons of traffics and loyal readers, then would you cheat?
I guess not many people would agree to that. If I make the cheating legal and authentic here in the strategy, then would you use it? If yes, here's how the CCPC Method works? It again requires three steps to give you effective results.
Step 1:
---
Create A list of hashtags that are very relevant to you and have a huge number of posts with active users. Note down these hashtags in an Excel sheet or Google sheet because we would need them in the future.
Step 2:
---
When you have a good number of hashtags in your list, then just search one on Instagram, and try to look for a post that dominating the hashtag. Find that one post that's getting a good amount of engagement in terms of likes & comments.
You might be wondering how do you decide which post is crushing it?
This post has 1.1K likes, and 110K comments, the ratio of comment and like is good. (Our Copy & Paste Post)
This post has 3.7K likes, and 96 Comments, the ratio of comments and like is not good.
Now you've found the post, which you need to recreate with your touch.
Step 3: 
---
When you have the post that you think is good and already popular in the niche, then recreate and share it in your account. Don't forget to credit or tag the actual creator of the post, and if possible, comment on the actual post your current post link.
After posting some of these posts, keep an eye on your account data to figure out the taste of your audience, the type of content they like, and at what time they want it to be served. Use the data to iterate your post strategies to grow your account.
The Snatch Method:-
We all feel envious of somethings that people have, and we don't. It's okay, we are humans, after all.
We wish to gain those things too, but there are different hurdles to make it harder for us to attain it, and people with weak heart go for the easy way, while the strong one stick to it till they get what they wanted.
The snatch method works on the same line. It has only 2 steps that you've to follow to grow your Instagram followers.
Step 1:
---
You need to find a profile that's relevant to you and have the type of audience you want. The two-parameter you need to check before deciding the account to snatch followers from is that how many followers they have, and then check out at least 20 posts published by them to see who are the active followers.
Once you figure out the active followers, all you've to do is snatch them by offering more valuable content at your profile.
Step 2: 
---
We are going to approach all these active followers and tell them about your profile and the content you share. Our idea would be to entice them to visit your profile and follow you.
How do we do that?
You can email them and explain the reason behind your mail, or you can directly message them to build a relationship and invite them to visit your blog.
The Moral Of This Story:
We've come across many marketing strategies, over the net, some tend to work for us, some don't. Most of the strategies require experience and the same level of understanding as to the person who is sharing them, and when we don't have that, the strategies tend to deliver unexpected results.
The Instagram marketing strategies that I've shared with you will work for anyone like a charm if they put in the effort. You can't shield yourself from the rain if you don't put in the effort of opening the umbrella.
The 3 strategies are very simple but effective and powerful too. You can easily replicate them for your account growth.
What Instagram marketing strategy works for you the best? Share your answer in the comment.